This post may contain affiliate links. When you purchase a product using my affiliate link, I may receive a small commission (at zero cost to you). Know that I only recommend products I know and trust.
Hiring a website designer or developer can be an expensive investment. And if you're just starting your business, there are so many other expenses that you need to keep in mind. So how can you launch your online presence without the hefty price tag? Creating your own website is a great solution whether you are just starting your business or on a tight budget. All you need is a computer and access to the internet.
How to make your own website for your business
Follow these steps to help you make your own small business website.
1. Decide on the goal of Your website
Before you start creating a website, it's essential to understand your goals. Having clearly defined goals will help you save time and money and help you to make the best website for your business.
Some goals for your website may include:
Growing your online presence
Building your email list
Selling physical or digital products
Selling services
Giving visitors a place to connect with and learn more about your company
Sharing updates and announcements
Highlighting customer reviews
Let's say your goal is to sell services. What type of services will you sell? Will you need customers to book an appointment for your service? What payment methods will you offer? Will customers only be able to pay once, or do you want to provide monthly payment options?
Whatever your goals are for your website, remember to be as detailed as possible about what you will need to achieve those goals. This will help you decide which website platform is best for your business.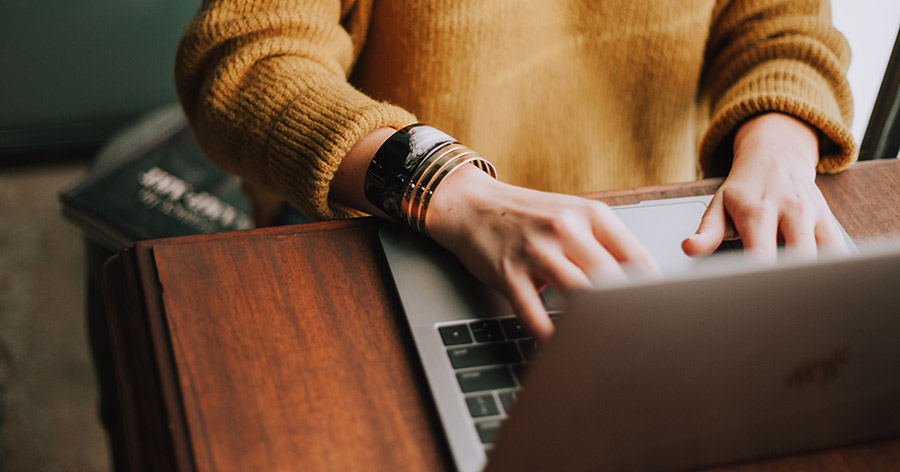 2. Choose a website platform
The fastest way to start a business website is with a website builder/platform. An easy-to-use website builder can get you up and running fast with little effort or coding skills.
The best website platform will:
Provide secure hosting and a custom domain
Make it easy to optimize your website for search engines
Provide templates or themes to speed up your website creation
Let you customize templates for both desktop and mobile screens
Have a drag-and-drop website builder to make changes easily
Offer a library of free stock images and videos
There are a variety of website platforms available to you. Each platform serves a different need. So choose the one that is the best fit for your business.
Here are four of the most popular website platforms:
Wix
Wix is a website platform made for small business owners who want an easy, all-in-one solution. Its drag-and-drop website builder provides total creative freedom over the layout and design of your website, all without a single line of code. It is the most popular website builder, with over 100 million subscribers.
Wix is especially great for someone just starting out because it has all the business tools you need to get your website up and running.
Here are some of their key features:
easy to use drag-and-drop builder
online scheduling software
online store / eCommerce functionality
secure online payments
desktop and mobile editor
professional blog
SEO tools
Email marketing
While the website-building process is simple, Wix lacks advanced customization features you can find on platforms like WordPress. But if you just need a website to showcase your products and services, Wix would be perfect for you.
Squarespace
Squarespace is a website platform known for its user-friendly interface and modern website design templates. Squarespace websites are built through block-style building (you drag and drop blocks into columns and rows). This style of website building might limit you if you want to do any out-of-the-box design and want more creative freedom.
Shopify
Shopify is known for its eCommerce and online store builder. You can use Shopify's platform to sell physical products to anyone, anywhere—in person with Point of Sale and online through your website, social media, and online marketplaces.
One feature that stands out the most is Shopify's dropshipping business integration. With dropshipping, products are sent directly from your wholesaler to your customers. This allows you to sell products without the hassle of managing inventory, packaging, or shipping.
Self-Hosted WordPress
WordPress is an excellent option if you need to set up a blog or looking for a more complex website for your business. It is very popular among small business owners, with 43% of the web being built on WordPress. There are a variety of free and premium themes that can be used on WordPress. However, it is essential to note that WordPress requires a bit more technical knowledge for updates, ongoing maintenance, and site security.
To get started with WordPress, ensure that you choose a website hosting company that automatically installs WordPress on your servers, offers free themes, and includes features to help keep your site secure and running.
If you're looking for an affordable and reliable WordPress hosting solution, Bluehost web hosting is a good choice for you. With Bluehost, you'll get access to the following:
your own custom domain;
hundreds of free and premium website themes;
powerful plugins that allow you to add bookings, online ordering, customer chat windows, and more;
website security that comes with a free SSL certificate, malware detection, automated security updates, and 24/7 expert support;
marketing tools to help you drive traffic to your site and grow your customers;
your very own dashboard to track your visitor analytics, user comments, and anything else happening on your website;
and so much more.
Ready to get started with WordPress? Get up to 70% off Bluehost web hosting for a limited time. Click on the link below to start building the website of your dreams.
Remember, before you choose your website platform, think about your website goals in the short and long term. Do you want an easy-to-update website? Wix and Squarespace might be the best options. Do you want to start a blog or need a platform that offers more functionality? Then WordPress might be the best solution for your business.
3. Pick a custom domain name
Choosing a domain name can be one of the most essential steps in establishing your brand or business. A domain name is like a digital address where people find you online. For example, our domain name is www.theunfoldingrose.com.
Your domain name is often one of the first things someone sees when interacting with your website or brand, which can affect their impression of you.
According to Google, when choosing a domain name, be sure to:
Keep it short, simple, original, and memorable.
Avoid hyphens and numbers.
Add relevant keywords, if possible. Keywords can include what you do or offer (like "coffee" or "cleaning") or even your location. Including your location (like "miami") in your domain name might also help you target local customers and users.
Make it the same as your business name or as close to it as possible. You don't want to confuse people who type in your domain name and get to a website with a different name.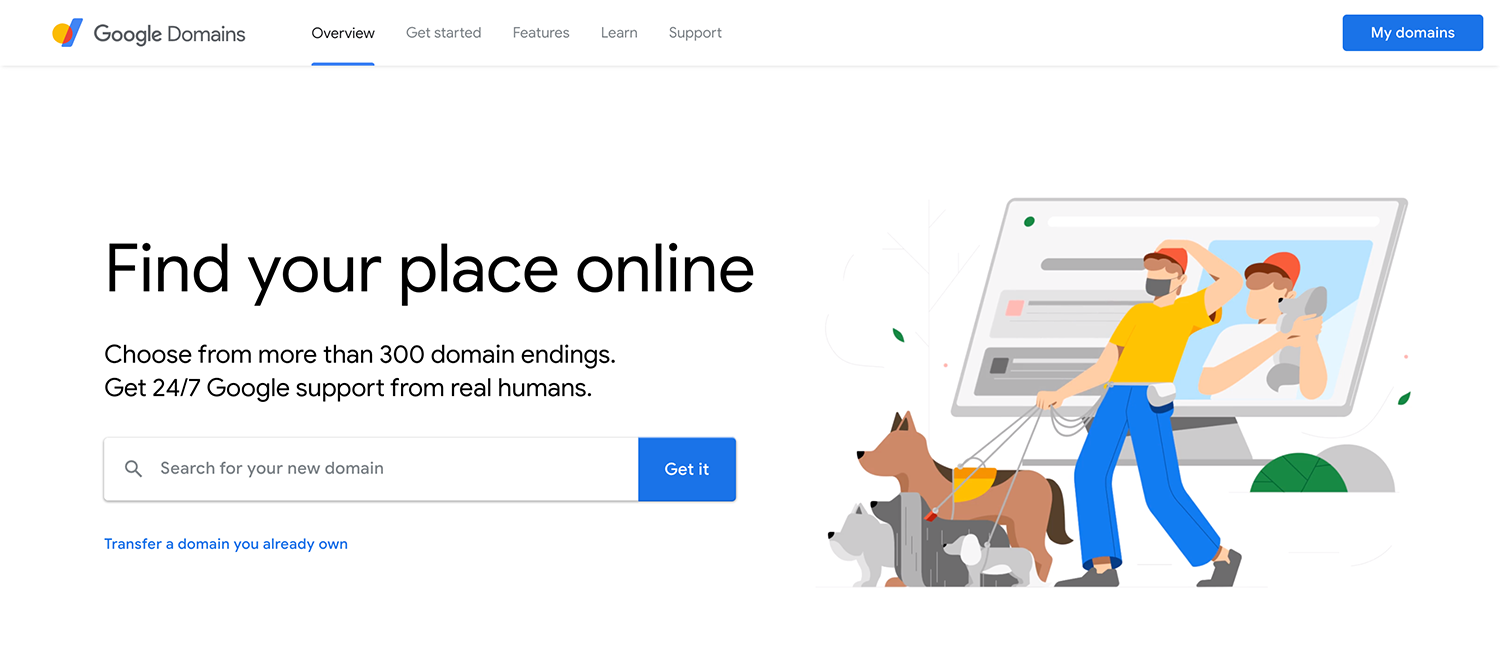 4. Choose a website template
Now that you're clear on your website goals, have picked a domain name, and selected a website platform, it's time to choose your website template. Most website builders offer themes or templates you can install on your site. You can use these templates as the starting point to design a basic website for your business.
Website templates allow you to launch your site quickly. Templates are pre-made websites that you can customize to make your own. All you need to do is simply swap out the text, images, and logo with your own. Keep in mind that the theme or template you use will guide the way your website looks.
Consider the following when picking a template:
Templates come with multiple styles and layouts. Look for one that has the design layout you want.
All templates come with built-in features. Consider which features you need based on your website's goals.
Don't choose templates based on colors or fonts. You can customize these details later.
How does it look on mobile? Check to ensure your template looks as good on desktop as on mobile.
Want an easy-to-customize website template to get started? Check out our Wix website templates.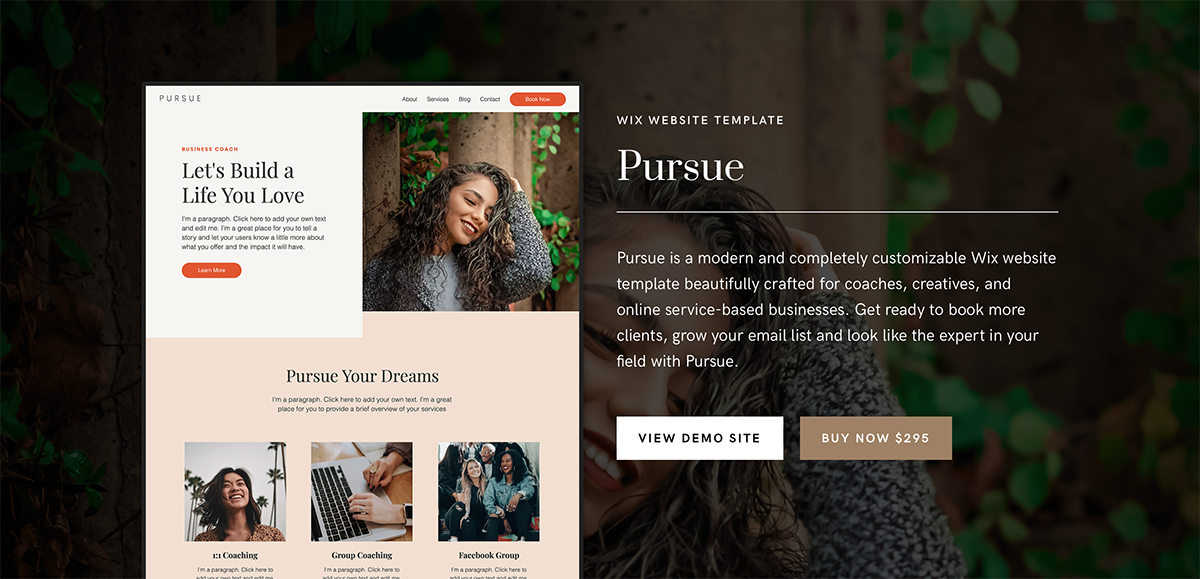 5. Customize your website template 
Time for the fun to begin! Now that you've selected your website template, you'll need to customize it to match your brand.
To customize your template, you should take the following steps:
Change the colors and fonts to match your brand.
Use high-quality photos to represent your business. You can get free stock photos online from unsplash.com or pexels.com. If you go with a platform like Wix, you'll have access to their free stock photo library.
Link or embed your social media channels.
Add your content to new pages or customize the ones in your template.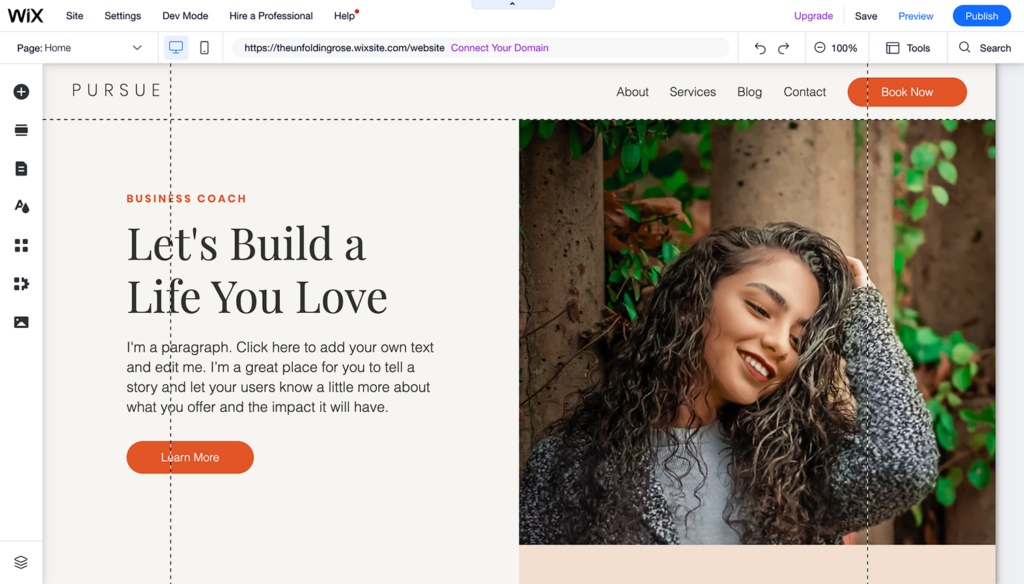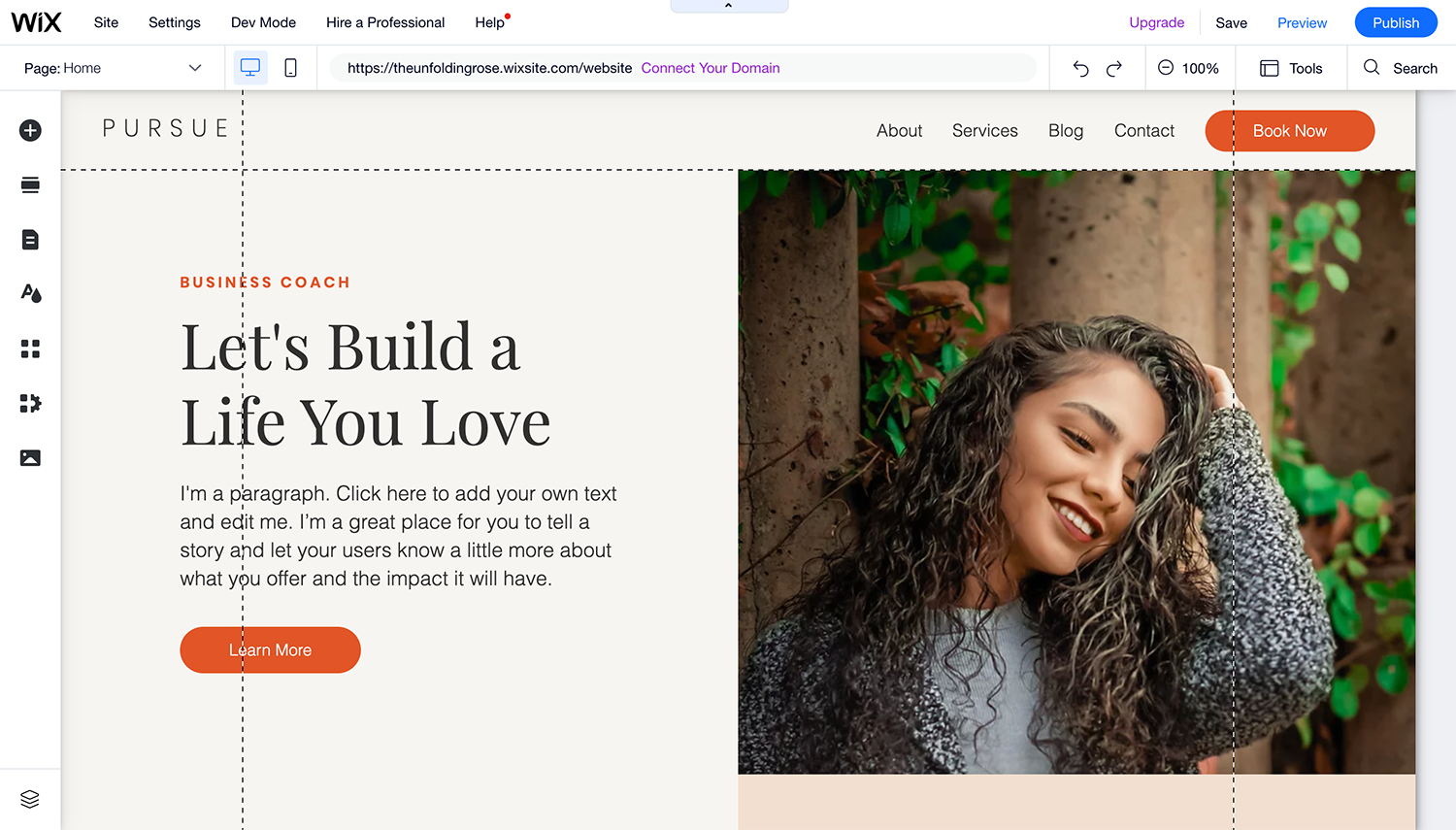 6. Add relevant pages
Let's discuss what pages you should add to your website. Depending on your website goals, you'll need to decide which pages you need.
To help you get started, here are some standard pages you want to include on your website:
Home: This is likely the first thing visitors will see when visiting your site. Your home page should give visitors a clear idea of who you are, what you do, and how you can help them. Use the home page to make a good impression on visitors and guide them toward actions on your site.
About: Talk about your business's story. Provide a brief overview of your company's mission and values. People are more likely to buy from you if they feel connected to your brand, so feel free to share your story and the 'why' behind how it started.
Services or Product Pages: Create pages that explain the services or products you offer and the value they will provide. This should also include a clear call to action for customers to take the next step. Whether that's a buy now button, a contact us link, or a calendar to schedule an appointment.
Blog: A blog can be a place for your business to post news updates, informative articles, or other content for visitors to browse.
Contact: This page informs customers how to get in touch with you. This page should include your address and a map showing your location if you have a physical location.
7. Add business tools
In addition to adding your brand elements and pages, most website platforms allow you to add business tools to your site to simplify managing certain parts of your business. In the Wix app market, for example, you can find tools to help:
Sell products, downloads, and subscriptions
Build and market courses
Manage events
Build an email list
Run ads for Facebook or Google
Create lead-generation pop-ups
Offer live chat support
And much more
These business tools can unlock new opportunities for your website that drive traffic to your site, improve customer experience and boost sales. It all comes down to finding the right apps that meet your business needs.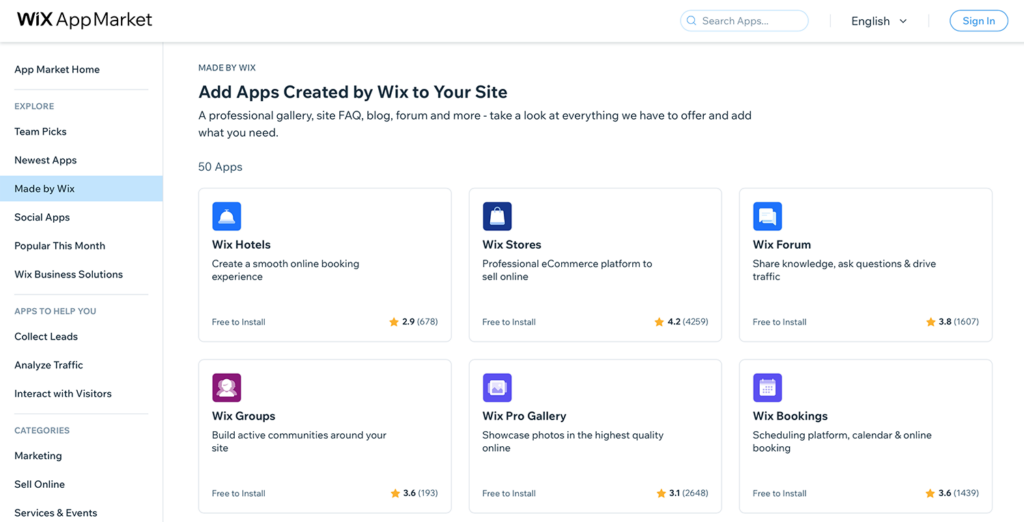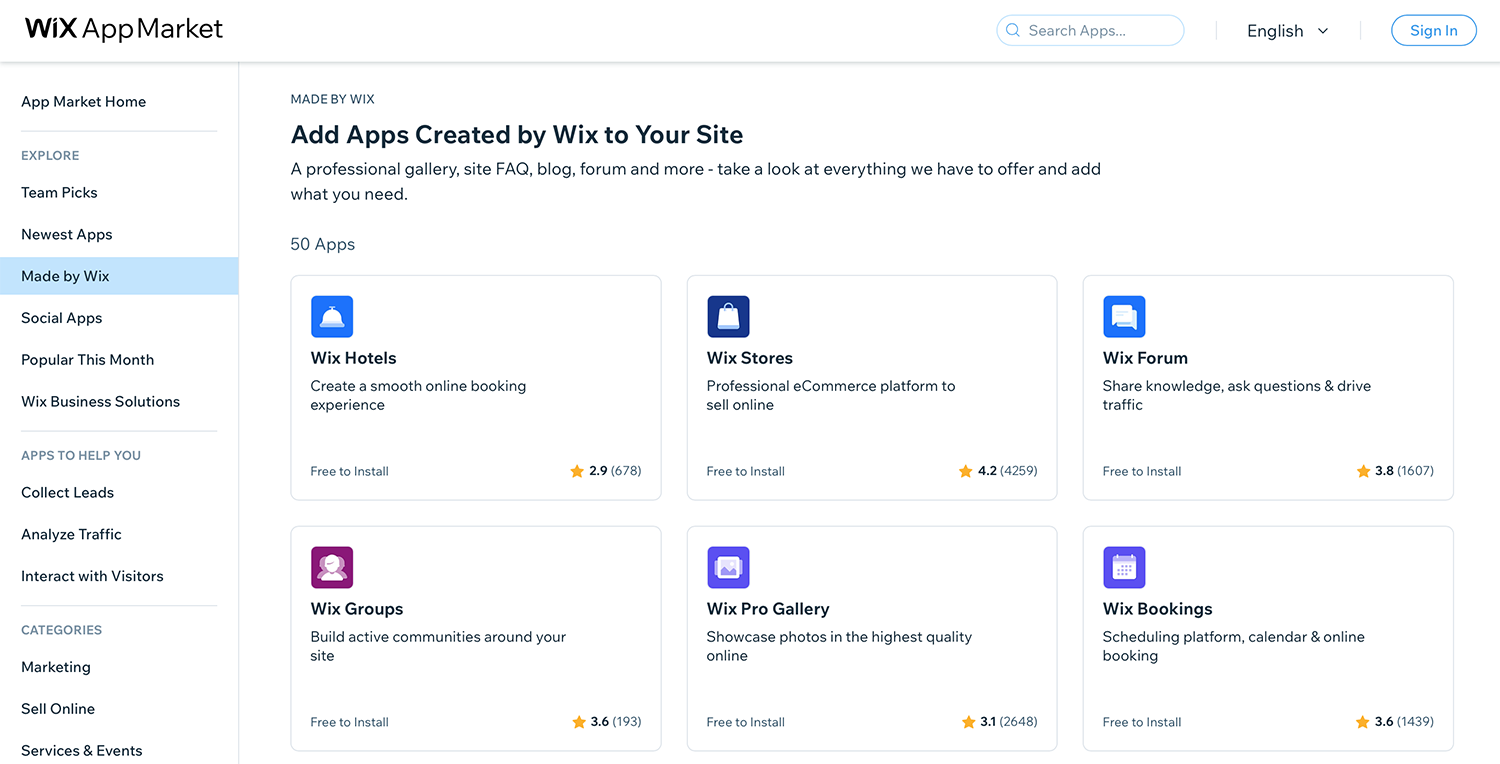 8. Preview, test, and publish your site
Once you've done all the previous steps, you'll probably be eager to hit that publish button, but before you do, you need to ensure that things look and work the way you want them to.
Here are a few things you should double-check:
Your spelling and grammar
That there are no broken links, buttons, or images
The site functions well on both desktop and mobile screens
Your site is optimized for search engines
Whether or not your site loads quickly on all devices
To triple-check, send your website to friends and family for review to get an extra pair of eyes.
Following this step-by-step guide, your new business website should be ready to go live! Give it one last look to ensure everything looks good—then click Publish.
Congrats!!! Pat yourself on the back and celebrate the launch of your new site. Now it's time to share it with the world.
In Conclusion
Having a website for potential customers to learn about your business is essential in today's modern world! Get your company's story online so potential customers can search for, learn about, and connect with your business.
Ready to make your own website?
Check out one of our fully customizable website templates designed to stand out and convert your dream clients. All templates start at $147.